San Francisco Bay Area small business owners are increasingly using SMBX to raise funds from everyday investors in their community and across the country.
Twenty-five (25) small businesses have raised $4,604,970 from everyday investors since 2020, including:
Boichik Bagels (Berkeley) $1,070,000
Humphry Slocombe (SF) $250,000
Outta Sight Pizza (SF) $100,000
Poppy Bagels (Oakland) $150,000
Rize Up Bakery (SF) $297,630
Volcano Kimchi (SF) $124,000
Osito (SF) $76,880
Black Hammer Brewing (SF) $100,000
Degrees Plato (SF) $150,540
Popoca (Oakland) $112,310
La Perla (Oakland) $99,880
CADraftTech (Oakland) $35,000
Pyro's Pastrami (Berkeley) $100,000
Uji Time Cafe (Berkeley) $87,220
Flora Grubb Gardens (SF) $500,000
Bernal Cutlery (SF) $139,380
Hacking Solutions (Oakland) $113,370
Het Say (San Jose) $124,000
Young Kobras (San Carlos) $53,810
Manhattan Zodiac (SF) $70,000
Bad Walter's Bootleg Ice Cream (SF) $139,140
White Label Chocolates (Santa Cruz) $48,620
Palm City Wines (SF) $400,000
Butter and Crumble (SF) $104,550 (ongoing)
Hella Bagels (Oakland) $158,640 (ongoing)
Oakland's Reesa Kashuk of Poppy Bagels
Is the Future of Restaurants Grassroots Funded?
Regulation crowdfunding allows people to directly lend to businesses they want to see grow — and earn profits from having done so.
(Eater San Francisco) SMBX stands for Small and Medium Business Exchange and works by issuing bonds (loans that come from individuals instead of a bank) from business owners to everyday investors in increments of $10. Anyone with a credit card or a bank account can buy bonds in local businesses on SMBX, which entrepreneurs like Kashuk are then required to pay back with interest over time. Kashuk first heard of the exchange from other local businesses already using it, specifically the famed San Francisco ice cream brand Humphry Slocombe and the Salvadoran pop-up Popoca. "I was looking for a way to raise money that was relatively affordable and flexible, and SMBX fit that bill," Kashuk says. "The bonus was that my community could get involved in a real and tangible way." (Read more)
Boichik Bagels Raises $1 million to Build Bagel Manufacturing Plant
Turned Away from Banks, Some Local Merchants Turn to 'Small Business Bonds'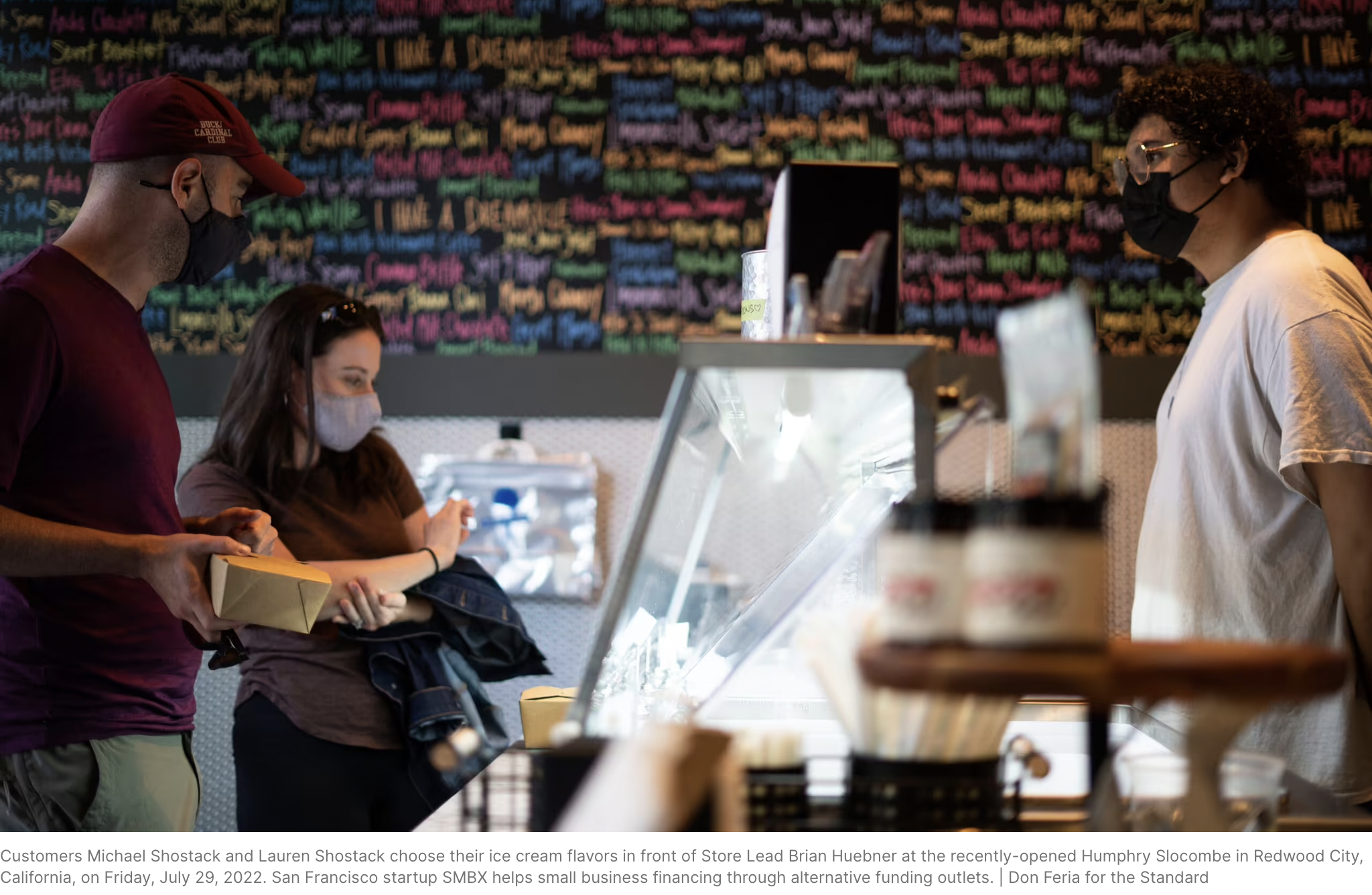 (The San Francisco Standard) SMBX was formed to provide access to capital without forcing entrepreneurs to give up equity. Since launching in February 2020, roughly 70 businesses listed on SMBX's platform have raised more than $6 million to help support and expand their ventures. "I'm not sure if any loan could be considered fun, but if a loan could be fun, it'd be this one," Osumi (Humphry Slocombe) said. "You're getting the same funding at the same rate, but the money's coming from real people who are getting paid back, rather than going into the black hole of a bank." (Read more)